Oyaide
Oyaide R-0
Oyaide R-1
Mounting bracket
SWO Ultimate Series
Mounting bracket
Oyaide M1/F1 AC Connectors
Oyaide R-0
Oyaide CN series
Setting a New Standard
You are invited to enjoy these remarkable products, and a truly enhanced musical experience.
The importance of high quality power supply connections is now widely accepted. Many enthusiasts install dedicated power lines for their hi fi systems and no longer question the importance of the quality of the receptacle fitted to the wall. Conventional "hospital grade" connectors can improve the strength of the mechanical connection, but they are far from ideal for realizing the best sound quality.
Our objective was to develop receptacles whose sole purpose was to deliver the highest sound quality possible. Every part has been designed with this in mind. Extensive research into the effects of plating methods has yielded three equally valid but different types of sound for you to choose from. The entire series is non-magnetic to avoid any disturbance from magnetic fields.
Oyaide R-0
$165 (includes double-cryogenic treatment and 6 days conditioning on the audiodharma Cable Cooker)
Body: high rigidity resin with glass filler (30%) PBT Mounting band: no brass plating, a completely non-magnetic material.
Internal Contacts: non-plated beryllium copper, hand-polished twice, 125 Volt / 20-ampere rating. Can accept 10-gauge wiring.
Oyaide R-1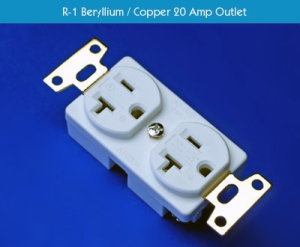 $185 (includes double-cryogenic treatment and 6 days conditioning on the audiodharma Cable Cooker)
The 20-amp rated R1 features a white body and Palladium plating over PLATINUM (all twice-polished, of course) over a beryllium copper substrate.
With a touch more warmth and sweetness than the SWO-XXX, it retains all the nuance, subtlety, and fine detail, offering a new level of refinement that must be heard. A must for a high-performance front end, or for feeding one's entire system via a high-quality line conditioner.
SWO Ultimate Series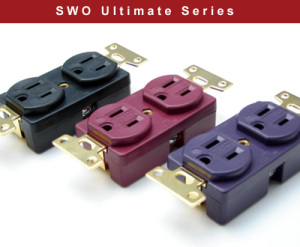 Here are the sonic characteristics (and comparisons) of the various plating's on the SWO series of AC receptacles and AC connectors:
Rhodium-over-silver (DX and 037):
vivid….immediate….a sense of increased detail….a closer musical perspective.
Direct gold (GX and 079):
luxurious….rich….soulful….an extraordinarily deep and wide soundstage….speakers disappear.
Palladium-over-gold (XXX and 046):
extraordinary clarity….increased nuance and subtlety….a deep and wide soundstage….a 'cooler' presentation than the direct gold.
SWO-DX
Extra thick (1.5 micron) Silver base plating with Rhodium plating (0.3 micron) to finish. Surface is thoroughly (twice) polished before each plating process.
SWO-DX duplex (rhodium-over-silver)… $115
with double-cryogenic treatment & 6-day conditioning on the Cable Cooker…$125
---
SWO-GX
Extra thick (2 micron) 24K direct Gold plating. Surface is thoroughly (twice) polished before each plating process.
SWO-GX duplex (direct gold-on-gold)…$120
with double-cryogenic treatment & 6-day conditioning on the Cable Cooker… $135
---
SWO-XXX
Extra thick (1.5 micron) 24K Gold plating with Palladium plating (0.3 micron) to finish. Surface is thoroughly (twice) polished before each plating process.
SWO-XXX duplex (palladium-over-gold)… $125
with double-cryogenic treatment & 6-day conditioning on the Cable Cooker…$140
Additional Details
Base Material
Highly (twice) polished deoxidized phosphor bronze for the most secure contact (20 amps).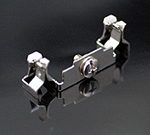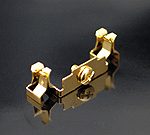 Mounting Bracket
24 Karat plated brass fittings for strength and durability.
Body / Insulator
Glass filled nylon for high rigidity and resonance control.
Specifications SWO Series
Outlet: 2 pole 3 wire grounding 15A 125V
Wire Insert: Accepts 4 X 10 Gauge wire allowing for easy flow of high current
Mounting Frame and Faceplate
13mm-thick solid aluminum frame machined from a solid block for rigidity and resonance absorption. Comes with 1.3mm thick CNC'd carbon fiber faceplate, offering additional EMI reduction. Mates perfectly with SWO series & Ultimo series receptacles
WPC-Z single outlet version
Machined aluminum housing & carbon fiber faceplate……$275
Prices include single deep-cryogenic treatment.

Oyaide M1/F1 AC Connectors
$390 each / $780 per set (includes double-cryogenic treatment)
The M1 / F1 was designed as Oyaide's flagship model, making no compromise. They represent a major step forward in cutting edge technology having inherited and improved upon the advanced technologies of the P/C series.
The inner housing is made from POM (Polyacetal resin) for its superior mechanical strength, excellent vibration damping properties and noise reduction capability. Because a magnetic field is easily generated around connectors, Oyaide employed an aluminum outer barrel for noise reduction. This combination of materials creates a high signal/noise ratio and improved vibration attenuation. The contacts, made from beryllium copper (just like the R-1 and R-0 receptacles), are heat treated to insure mechanical integrity and high conductivity. The plating of the M1/F1 is a combination of platinum and palladium, identical to the contacts within the exemplary R-1 receptacle. The inner platinum layer is 0.5 microns thick and the outer palladium layer is 0.3 microns thick. Can accept a maximum of 10-gauge wiring.
Ratings: M1: 125V / 15A ~~ F1: 125V / 15A, 250V / 16A
Approvals: M1: E ~~ F1: E, CE
Acrolink CF series Connectors
$1000 (includes single deep-cryogenic treatment)
Carbon Fiber Series power connectors/made by Acrolink, model CN-PC80 (matching set of 15-amp AC wall plug & IEC connector… palladium-over-gold contacts)
The Acrolink CF series represents the ultimate in AC connectivity. Polished phosphor bronze contacts are twice-polished with 1.5 micron-thick gold plating, followed by a 0.3 micron-thick palladium plating. Carbon fiber outer barrel absorbs EMI and stray electrons, making it the quietest AC connector available today.
True Purity
Various manufacturers claim to produce ultra high purity, 6N (99.99997%) copper; however, different refining processes yield materials that vary greatly in both the composition of impurities and crystalline structure.
Most of the "so called" 6N and 7N materials are not measured comprehensively. Glow Discharge Mass Spectrometry – an extremely powerful tool for performing ultra-trace elemental analysis has been applied to Acrolink's 6N pure copper. The results in the accompanying table demonstrate that Acrolink has achieved an unrivalled standard of purity.
The Effect of Impurities
Minute impurities create variations in impedance, inhibiting the ability of a cable to achieve extended frequency response. Responsible for meeting the needs of leading edge computer and aerospace technology, Acrolink has developed a multi-stage process that removes each impurity individually. Applying this to audio they have been able to achieve flat frequency response to 18 GHz in their Mexcel series!
Stress-Free
After the cable core is formed, the Acrolink Stress-Free process is applied in a clean, oxygen free environment. This imparts permanent self-annealing properties: No matter how often the cable is bent or impacted, it will always return to its original relaxed state (uniform crystalline structure).
Dielectric
A new polymer polyolefin, presently the best material available, has been chosen for the insulator for its extremely low dielectric constant (1/3 of polypropylene and 1/4 of PVC).
Resonance Absorption
Proper absorption of resonance is one of the key factors in determining final sound quality. Acrolink has focused on this issue for many years and developed tremendous expertise. Materials are carefully selected for each individual design in order to achieve perfectly balanced and effective absorption.

Reviews
Just finished installing my R1 into a duplex box that feeds a PS Audio P300 via a PS Audio Plus power cord that drives my Audio Research Ref 2 preamp connected by an Acrolink power cord with 079 connections.
My immediate reaction was that there was a loss of bloom, like switching to a excellent solid state preamp. As I spent more time listening to various discs and albums it became very clear that I didn't lose anything but bloat.
The system went deeper with a more natural presentation than I could have ever expected. The bass was everything you would hear in an actual venue, voice was clear and allowed you to hear the forming of the syllables as they left the performers lips and the highs extended forever with no digital glare.
I have never heard a piano sound so well captured or most anything else for that matter.
From a purely mechanical perspective the R1 clamps onto the power cord as good or better than any receptacle I have used. Thanks again. John Shaw
---
Hi Alan. It's a MASSIVE upgrade! Everything sounds more detailed AND more musical at the same time! Highs are more defined yet more relaxed, while the bass is 'fatter' and tighter. The sound stage has improved, as well. Thanks for the excellent service on this great purchase! Sincerely, Dan in Vermont
---
The SWO-GX had arrived today, and again, thank you for the prompt service and shipping. Even though it'll still be settling-in in the next few days, I must admit that it sounds quite wonderful, even at this point! In my particular system it has clearly outperformed the Levitons, Hubbles, or Wattgates. Sonically, it appears to be a superb outlet and is definitely an asset to my quest for the highest-end audio performance. Warmest regards, Chris
---
There are a number of tweaks over the years that pleasantly surprised me regarding the degree of improvement of sound quality, i.e. musical enjoyment, the top of the list being Symposium roller blocks under the transport. But the Oyaide has shot to the top of the list! Depth of soundstage and inner detail greatly improved but most striking was an organic quality you described (maybe the increased perception of organic quality is a function of perceived soundstage depth and inner detail). Anyway, I find myself listening longer, which trumps any kind of mental gymnastics about sound. Regards, Charles